Pope Francis Blesses Eyes Of 5-Year-Old Girl Losing Vision From Rare Disease
Elizabeth "Lizzy" Myers is just 5 years old, but she's already facing the impending possibility of a life without vision. The Ohio girl suffers from Usher syndrome, a rare degenerative condition that often results in vision and hearing loss.
On Wednesday, Myers and her parents had a special opportunity to meet Pope Francis during his general audience in Rome as part of a "visual bucket list."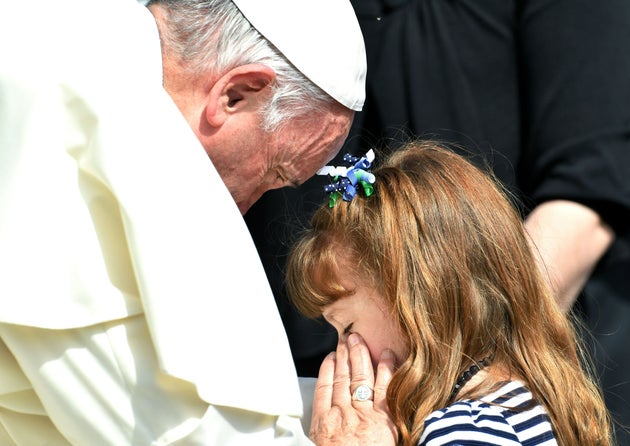 "He blessed Elizabeth's eyes," Myers' mother, Christine, told reporters after the meeting. "He asked that we pray for him and said that he would be praying for us."
Shortly after their daughter's diagnosis last year, Myers' parents created the "visual bucket list" of amazing sights for the child to experience before she loses her vision. Visiting Rome was on their bucket list, as well as more simple pleasures like flying a kite, blowing bubbles and catching fireflies, Christine told Mansfield News Journal.
The world first learned about Myers' condition in 2015 when the child and her parents visited an observatory to peer into the night sky and a local news outlet picked up her story. Turkish Airlines heard about the family and offered to cover the cost of a trip to anywhere in the world. Myers' family decided on Rome, and Italian charity U.N.I.T.A.L.S.I. invited them to the Vatican to meet the pontiff, Christine told Mansfield News Journal.
"I never expected this in a million years when we first started the journey," Myers' father, Steve, told reporters.
Myers has already experienced moderate hearing loss and wears a hearing aid. Doctors say she will likely begin losing night vision and experience tunnel vision by her teens and may eventually become completely blind, Christine told Mansfield News Journal in July.
As of the meeting with Francis on Wednesday, Myers was still unaware of her condition.
"We want her to lead as normal a life as she can without her worrying," Christine told Religion News Service. "One day, we'll have to tell her. I just don't want that day to come any time soon."
Steve told reporters the family came looking for "some amazing memories." As for the meeting with Pope Francis, he said, "if there is any chance for a miracle it would be there."
Read more: http://www.huffingtonpost.com/2016/04/07/pope-francis-lizzy-myers_n_9637666.html